The Andrew McCormack trio welcomes acclaimed British saxophonist Denys Baptiste as special guest for a series of live shows in the Autumn of 2023.
In order to relive the magic of Denys' monumental Let Freedom Ring project and his album Be where you are, which won two of the UK music industry's most prestigious awards in 1999—the Mercury Music Prize Award for 'Album Of The Year' and the MOBO Award for 'Best Jazz Act'—these renowned band leaders will renew their collaboration in 2023 and reunite once again for a limited number of live shows.
This show will also feature respected London Jazz musicians Joe Downward on bass and Rod Youngs on drums and will include music from Andrew's most recent '5 star' trio album, Terra Firma. Andrew McCormack has toured, recorded and collaborated with an impressive array of internationally established musicians, including Randy Brecker, Quincy Jones, Jamie Cullum, Jean Toussaint, Jason Yarde and most recently Kyle Eastwood, which has seen him contribute to the scores and orchestrations of several Clint Eastwood films.
Denys has developed over the years into what Time Magazine refers to as "the icon of British jazz," with a sound that is incredibly distinctive and instantly recognizable. Denys is a highly sought-after soloist who has collaborated with some of the biggest names in jazz, including Jason Rebello, Incognito, and Jazz Jamaica. Two celebrated UK bandleaders – one amazing quartet.
ABOUT Andrew McCormack
Exceptional pianist/composer and long-term Kyle Eastwood Band member Andrew McCormack has built a diverse international career with many appearances at major festivals and concert halls all over the globe. As a leader, his debut album Telescope in 2005 received universal acclaim and earned him a BBC Jazz Award for Rising Star the following year, with the pianist later returning to the trio format with a series of critically acclaimed albums including Live In London in 2012 and First Light in 2014.
The release of his most recent trio album, Terra Firma, has already been well received, with Jazz FM's Dinner Jazz show naming 'Fragile' their track of the week, with over 150,000 streams in the first month alone. Andrew has managed to consistently demonstrate a compelling setting for his musical ideas, a platform for virtuosic improvisation and a constant revivifying and adaptive embodiment of the jazz tradition.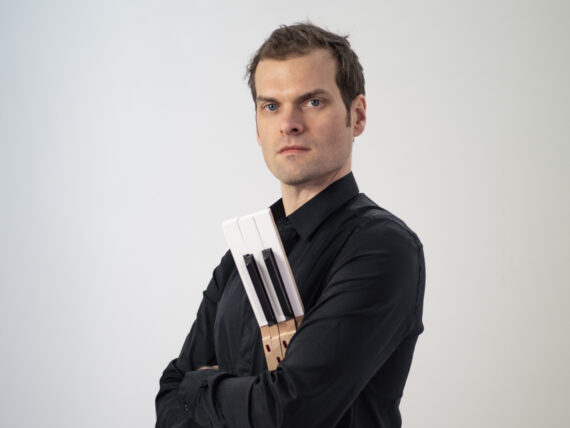 ABOUT Denys Baptiste
MOBO and Mercury award-winning UK saxophonist Denys Baptiste has a colossal talent – based on a powerful technique and an ability to improvise fluently and effortlessly across a wide range of musical styles.
From the moment he joined the London jazz circuit, Denys displayed extraordinary talent, energy and commitment. Spotted by veteran Jazz Warriors double bassist, Gary Crosby at the bassist's regular 'Tomorrow's Warriors' jam sessions, Denys was immediately invited to join Crosby's new band, Nu Troop. Since then, Denys has soared in his development as a soloist and bandleader, earning enormous respect from his peers.
Over the years, Denys has has played/recorded with some of the biggest names in jazz and other genres including McCoy Tyner, Andrew Hill, Ernest Ranglin, Bheki Mseleku, Marvin "Smitty" Smith, Michael Bowie, Courtney Pine, Manu Dibango, Gary Crosby, Steve Williamson, Julian Joseph, Jason Rebello, Martin Taylor, Lonnie Plaxico, Ralph Moore, Billy Higgins, Jerry Dammers, Sean Oliver, Jean Carne, Marlena Shaw, Noel McCoy, Juliet Roberts, Incognito, Jazz Jamaica, and others of distinction.