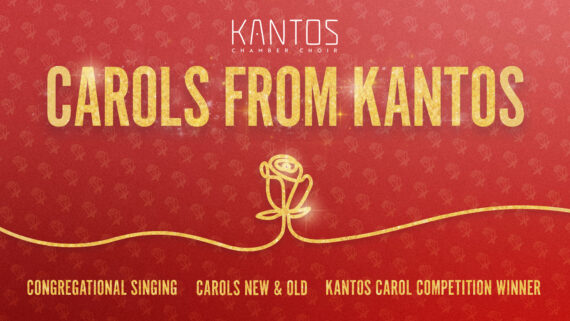 OF A ROSE SING WE…
For in this rose contained was, heaven and earth in little space.
This festive season, join Kantos to share the joy of Christmas and celebrate Mary, mother of God.
A concert exalting the Virgin Mary, hearing her soothing lullabies to the baby Jesus, our 2023 Carol Competition Winner, and of course, some Christmas classics and congregational carols.
Mary was that mother mild, Jesus Christ, her little child.
COME AND SING WITH KANTOS
Sunday 10 December, 2pm
Come and sing the festive choruses of Handel's Messiah side by side with members of Manchester professional chamber choir, Kantos, and their artistic director, Ellie Slorach.
ABOUT US
Kantos is a trailblazing vocal ensemble, performing at the cutting edge of the creative scene, producing vocal performances shaped by the music and stories we believe in.
Performing music by everyone from 11th Century visionary saints to genre-bending, experimental rock stars, Kantos prides itself on championing contemporary and well-known choral music. Commissioning and premiering new music is integral to Kantos; recent UK and international artist collaborations include Shruthi Rajasekar, Sadie Harrison, Rebecca Dale, Jack Sheen, Tim Benjamin, Chris Hutchings, Eleanor Cully Boehringer, Rory Wainwright-Johnston, Camden Reeves & Anna Disley-Simpson.
Alongside self-promoted performances and tours across the UK, recent highlights include touring with Gary Numan & Skaparis Orchestra in the Royal Albert Hall, Bridgewater Hall and O2 Shepherd's Bush Empire; recording for BBC Radio 4's Sunday Worship, alongside Manchester-based poet Rachel Mann; recording with the BBC Philharmonic Orchestra for a Radio 3 drama production of Anthony Burgess' 'Oedipus'; recording with Royal Liverpool Philharmonic Orchestra; premiering Rebecca Dale's Mater Requiem alongside a recording with record label Decca; an album release of contemporary Christmas carols for record label Prima Facie.