Kathryn Stott returns to The Stoller Hall this spring to join forces with violinist Pavel Fischer and cellist Petr Prause. They'll perform a concert programme celebrating the four giants of Czech classical music, Smetana, Martinů, Janáček  and Dvořák – whose Dumky Trio is one of the most beloved and popular chamber works of the 20th century.
About Kathryn Stott
At the age of five, I made friends with the upright piano in our living room. That was the beginning of my musical journey, one which continues as you read this. It would appear that my initial progress was rapid and by the age of eight, I found myself at a boarding school for young musicians, the Yehudi Menuhin School. During my studies there, it is now clear to me that I was heavily influenced by two occasional visitors to the school; Nadia Boulanger and Vlado Perlmuter. From them, my great passion for French music was ignited and Fauré in particular has remained the musical love of my life.
Further studies at the Royal College of Music in London then led me very abruptly into the life of a professional musician via the Leeds International Piano Competition. It remains the steepest
learning curve I have ever experienced. After a rollercoaster three years, I realised that I needed to re-connect with chamber music in a bid to feel more connected to other musicians and after all, this had played an important part of my musical existence since being a child. When, quite by chance, I met Yo-Yo Ma in 1978, it turned out to be one of the most fortuitous moments of my life. Since 1985, we have enjoyed a collaboration which has taken us to so many fascinating parts of the world and led to musical adventures with musicians who shared so much from their own traditions. I have always considered us to be intrepid musical explorers on our own individual paths but with an incredible bond that unites us on the creative highway. I very much enjoy the challenge involved in bringing musicians together with exciting programming at its core. Most recently, I was the Artistic Director of the Australian Festival of Chamber Music and working with artists on such a huge geographical scale, was fascinating. A little closer to home, I am presently the curator of the 2023 Sheffield Chamber Music Festival, and with this come fresh creations equally exciting. My love of curating and directing began in 1995 and since then I have brought to life many of my ideas in events lasting anything from long weekends to two weeks.
I continue to push my capacity for exploring music I know nothing about and love bringing together unusual combinations whenever possible. There are too many highlights in my career to mention. Yes, it was a thrill to perform at the Last Night of the Proms to millions around the world, but equally a massive thrill to have lit up twenty small faces in an inner-city school while they jumped up and down to energetic piano music! Working with young musicians is something I feel passionate about and presently teach at the Royal Northern College of Music in Manchester. I have also had some truly exciting music written for me and enjoyed a particularly close collaboration with composer Graham Fitkin. What an unbelievable privilege it is to be immersed in a language which has no boundaries and has allowed me to share musical stories on a global scale; that little upright piano set me on quite a path!
Talking of paths – I have also been found trekking in Nepal, Costa Rica, Bhutan or walking my spaniel Archie on the Yorkshire Moors. The journey continues.
About Petr Prause
Petr Prause is based in Manchester, England, where he has been appointed Director of International Chamber Music Studio and a Senior Cello Tutor in 2010, further strengthening the provision of chamber music at the Royal Northern College of Music.
Since 1997, Petr Prause has been a member of the Talich Quartet. They have been invited to the most important chamber music venues including London, New York, Washington, Toronto, Montreal, Berlin, Munich, Amsterdam, Brussels, Paris, Prades,  Seoul, Tokyo, Osaka and of course Rudolfinum in Prague, where they were Ensemble in Residence for the season 2009/10. Petr also joins other outstanding musicians in all kinds of chamber music formations and gives masterclasses at a wide range of international institutions. Recently, he was invited to the Jury of the String Quartet Competitions in Lyon and Munich.
Petr was born in Ostrava, Czech Republic and started to play the cello at the age of six with Miroslav Dolezil and Ivan Merka. He progressed to the Academy of Fine Arts in Prague, where he was taught by Miroslav Petras and members of the Smetana Quartet, graduating with a Masters Degree. He also studied at the International Menuhin Music Academy in Switzerland, and with Raphael Wallfisch at the Guildhall School of Music and Drama in London, where he was awarded the Concert Recital Diploma (Premier Prix). Petr taught the cello at the Prague Conservatory of Music and was Principal Cellist of the Prague Radio Symphony Orchestra, while performing as a soloist throughout the world.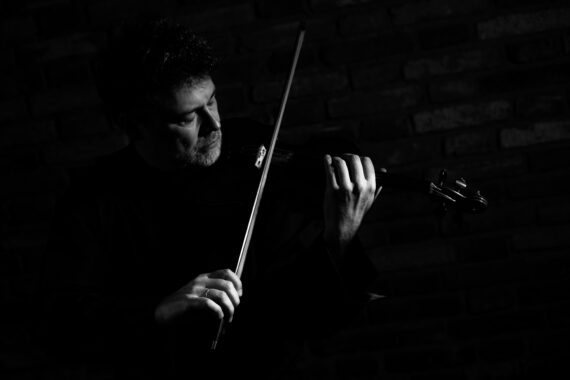 About Pavel Fischer
Pavel Fischer was born in Zlín, the Czech Republic, in 1965. He hails from a musical family background. His father, Eduard Fischer, was a well-known composer and conductor.
Pavel Fischer completed studies at both the Prague Conservatoire and Prague Academy of Performing Arts between 1979 and 1989, under the guidance of Professor Nora Grumlíková. In 1988, together with pianist Ivo Jančik, he won the International Chamber Music Competition in Trapani, Italy. In 1989 he became a co-founder and the leader of the Škampa Quartet. Prizes at international competitions including the London's Royal Philharmonic Society Award and the appointment as the first-ever Resident Artists at Wigmore Hall (1994-1998) gained them recognition. This led to invitations to perform at major Festivals world-wide including Prague Spring, Gstaad, Aspen, Schwetzingen, Edinburgh, Schleswig-Holstein and Melbourne among others.
With the Škampa quartet, Pavel has been an award-winning recording artist for Supraphon for many years. The BBC regularly broadcasted concerts from Wigmore Hall, St John's Smith Square, St Luke's and the Chamber Music Proms. Performances of his quartet have been selected for release on the Wigmore Hall Live label. Pavel has also worked with musicians including Josef Suk, Janine Jansen, Liza Ferschtman, Itamar Golan, Kathryn Stott, Melvyn Tan, Michael Collins, Jennifer Stumm, Jiři Bárta, D Pecková, Wolfgang Holzmair, Ronald van Spaendonck and Nikolaj Demiděnko.
After leaving the Skampa Quartet Pavel has dedicated himself to his teaching activities. In 2008 he became a violin tutor at the RNCM in Manchester and later at the Birmingham Conservatoire and Chethams School of Music. Pavel gave masterclasses at the Royal College of Music in London, the Royal Academy in London, the Concertgebouw of Amsterdam, the 'Nederlandse Strijkkwartet Academie', Orlando Festival, Weesp Chamber Music Festival, Kamermuziek Atelier Delft and the Strijkkwartet Biennale, Amsterdam. In 2018 Pavel became the director of the "Winterschool" at the Australian Festival of Chamber Music.
Pavel's interest in music of other genres resulted in a long-term cooperation with Iva Bittová spanning many years and the founding of the cross-over trio "Bardolino." In December 2009 he participated in the concert project of Ian Anderson and Jethro Tull. Since 2007 Pavel has been gaining recognition as a composer. His first string quartet "Morava", was commissioned and premiered at New York's Carnegie Hall in 2008. His further two string quartets premiered at the "Lake District Festival". In 2016 the premiere of his first Violin Concerto was held in České Budějovice, and in 2018 his work "Temperaments" for Voice, Violin, Cello, Accordion and Strings were first performed in the Dvorak Hall of the Rudolfinum, Prague. In the same year his "Tales from Moravia" were performed by the Pavel Haas String Quartet at Elbphilharmonie in Hamburg.
Image Credit: Kathryn Stott – Jacqui Ferry