Leave a Comment
Today (25 May) is the anniversary of the birth of Robert Bolton, a man of whom we are often reminded by the presence in Chetham's Audit Room of a small and now slightly dingy oil portrait. Bolton's portrait is one of a series of four oils of uniform size and date, unsigned and by a hand unknown. The four are all celebrated Protestant Lancashire men of influence, and the pictures were 'given by Reverend James Illingworth BD, 1694' in the words of the neat painted labels attached to the feet of each frame. Illingworth had died in 1693, so the gift was a bequest. The four men chosen form a group with academic, theological and institutional connections as well as local ones; we'll pursue those further in a future post.
Robert Bolton was a scholar, clergyman, and noted preacher. He was born in 1572 on Whit Sunday in Blackburn, Lancashire. He attended the Grammar School in Blackburn, where his father was a governor, and was described as 'the best scholler in the schoole'. By 1592 Bolton was studying at Lincoln College, Oxford, where his tutor was John Randall.
Following the death of his father, Bolton transferred to Brasenose due to financial issues, securing a fellowship. On 2 December 1596 he graduated with a B.A and by 1597 he held a Nowell scholarship, a foundation designed for the support of Lancashire men, and endowed by Alexander Nowell, another subject in our gallery of four portraits, Principal of Brasenose and Dean of St Paul's. Bolton would continue to progress in the academic field, and under the influence of Thomas Peacock graduated B.D. (Bachelor of Divinity) in 1609, entering into holy orders in the Church of England, and developing a zeal for strict Protestantism.
In 1610, he was conferred by Sir Augustine Nicolls to the rectory of Broughton, Northamptonshire. Bolton was a patriotic puritan minister, remarking upon 'the mighty workings of King James his works upon the adversaries.' His zeal was reflected in his published works, many of which we have in the library today, including A discourse about the state of true happinesse and Instructions for a right comforting afflicted conciences [sic]: vvith speciall antidotes against some grievous temptations and Helps to humiliation.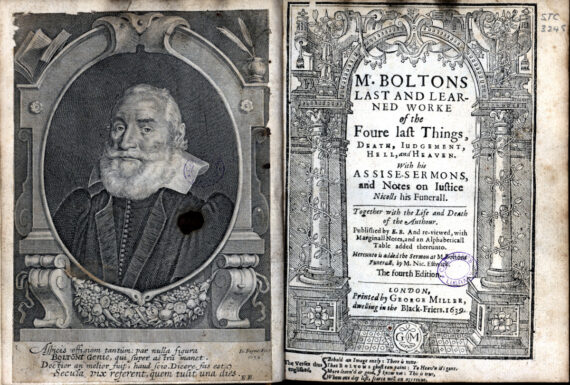 Bolton was described by some as the greatest classical scholar of his time due to his proficiency in Greek and Latin. Bolton was sixty at his death on 17 December 1631, following a long illness, and was buried under a monument to him in the church he had served or so long at Broughton. The Library also holds a copy of his funeral sermon A learned and godly sermon preached on the XIX. day of December, anno Dom. MDCXXXI. at the funerall of Mr. Robert Bolton Batchelour in Divinity and minister of Broughton in Northampton-Shire. By Mr. Nicolas Estvvick. That we can tell the tale of his life is in large part due to the biographical material supplied probably by Edward Bagshawe, friend and executor of Bolton, and editor of Mr. Boltons last and learned worke of the foure last things : death, iudgement, hell, and heaven. With his assise-sermons, and notes on Iustice Nicolls his funerall. Together with the life and death of the authour. Published by E.B., which is also in the collection here.