4 Comments
As heritage organisations are opening their doors once again, we are preparing ourselves to welcome back visitors and readers. It will not come as a surprise that our staff have been unable to work in the library for over a year. As a result, the lovely building and collections need a little conservation TLC. Our conservation team has begun the huge task of deep cleaning the library space and cleaning and condition checking the books.
In one of our previous posts, we covered the importance of dust maintenance, this blog will cover the steps we are taking to remove the dust that has accumulated while we have been under government guidance to work from home. A historic book collection requires a deep clean at least every 2 years, especially if open to the public as a tourist attraction. It is a delicate procedure to remove dust from historic books. As some of our items are at least 500 years old or older each one must be individually assessed as to whether it is robust enough to undergo the removal process.
Before the book clean can begin, specific steps need to be in place. First, an appropriate work surface must be created by covering a table with a dust cloth, on top of which you can put polythene sheeting. Books should be kept and returned in the correct shelf order as they follow a catalogue system, if this is not strictly followed precious treasures may be lost. To keep this order, you can create acid-free labels with the shelfmarks written in pencil, these should always be removed once the books are reshelved.  Books must be placed no more than 1 cm in from the front edge of the shelf, this is as much for handling purposes as it is pleasing to the eye.
It is crucial to handle books correctly when removing them and returning them to the shelves as this is where most of the damage can happen. For example, a book can be damaged when pulled out by its spine as this puts pressure on one of the most vulnerable parts of a book. Also, boards can be scratched when the books are returned to the shelves. There are safe methods for removing books from shelves, firstly if there is room, you can put your fingers over the top of the required book and push it forwards from behind you can then draw it out safely. Another option is to push the books on either side of the one you wish to remove towards the back of the shelf. This leaves enough space to grasp the boards rather than the spine.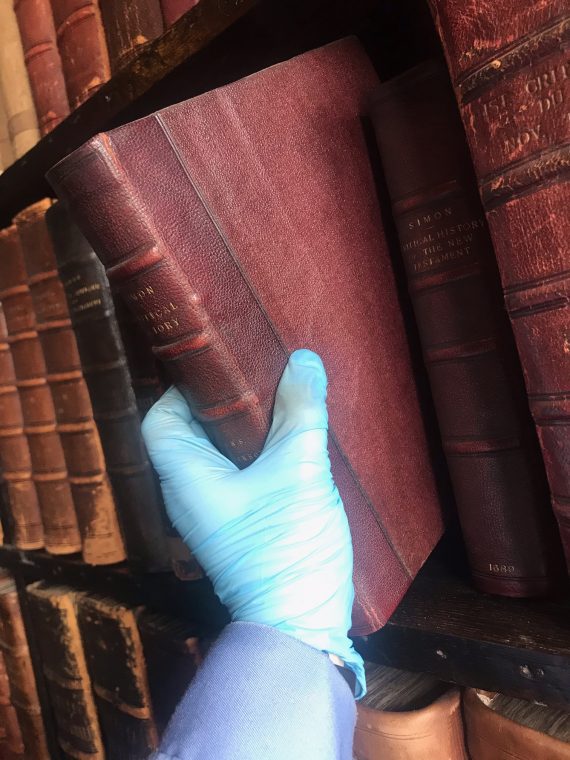 (Safely removing a book from a shelf)
If there is not enough space for the first two options, you can use gentle downward pressure. For example, put two fingers on the text block (book pages) behind the spine, then press down firmly until the book is at an angle where enough of the spine is poking out of the shelf. You can then safely remove the book with the thumb and index finger touching the boards.
It should be noted that nail varnish, even clear coats, can come off the nail onto the books and should never be worn when handling books or archival material. If nail varnish is present, then gloves can be worn. However, cotton gloves should never be worn as they decrease manual dexterity and could catch on bindings causing damage. Instead, tight-fitting nitrile gloves should be worn. If you choose not to wear gloves while handling books, then hands must be clean and free of hand cream and rings with stones. This is because stones can scratch bindings and hand cream can cause staining. Also, absolutely no food and drink should be in the area, not even water, as liquids cause almost irreparable and expensive damage and food crumbs attract pests.
Also, any condition reports should be filled in with pencil only as ink causes stains that are costly to remove. A condition record is a great way to record existing damage and offers an in-depth insight into a book's health. These records can assist in an institution's application for conservation grants and support an organisation's Accreditation application. We will cover the damage recorded in condition reports in the next blog for now we are going to focus on the cleaning process. Here at Chetham's we are only dry cleaning the outside of the books, any other treatment should always be at a conservator's discretion.
The following items are required to carry out dry cleaning: a pony hair conservation brush, a conservation museum vacuum, an appropriate dust mask, and some netting. Hold the book firmly across the spine keeping it closed so that no dust can transfer to the pages. Using the pony hair brush, clean along the top edge of the pages, starting from the spine sweeping towards the foredge. For heavy books clean them following the same method but keep them lying flat on the work surface. Brush the surface of the binding with the pony hair brush, never a duster or cloth, as these are too abrasive. The dust removed from the book should be swept into a museum vacuum, the vacuum should be kept on a low setting and have a netting cover placed over the nozzle. The covering prevents loose binding pieces from being lost. To prevent unnecessary pressure on a book's binding do not open it wider than 90 degrees.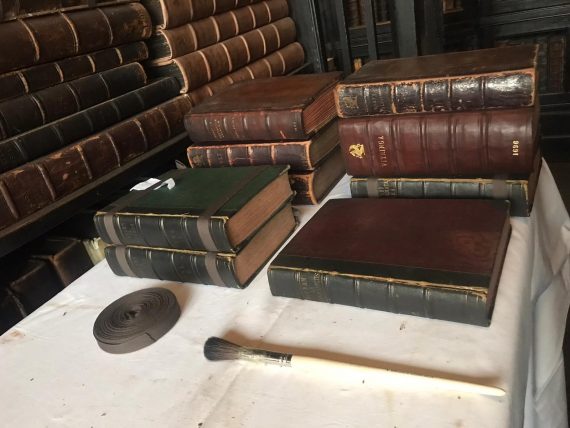 (Preparing for the clean)
When cleaning books, book tapes may be present. These are used for books that have detached boards or loose covering materials. After cleaning these should be replaced. Two pieces are typically used one at the top and one at the bottom of a book's spine. Care should be taken not to cover any tooling, shelfmarks, or labels; they should lie flat with the ties in vertical granny bows at the foredge of a book pictured below. Tapes should always be black, brown, or unbleached cotton from a reputable conservation supplier. If a book is not being returned to the shelf immediately after being tied, make sure you make a note of the shelfmark as you will be forced to untie it otherwise, ask us how we know that one…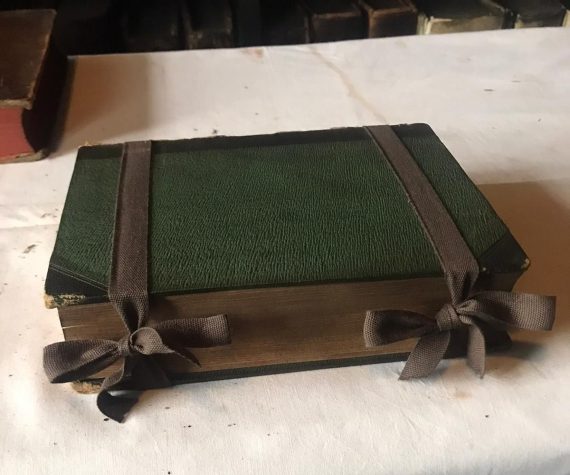 (Book tapes)
Your generous support is helping us to fund conservation work like this throughout this pandemic while our visitor tour income is reduced. Thank you to every single person who has donated to our Covid-19 Appeal so far.
By Laura Bryer